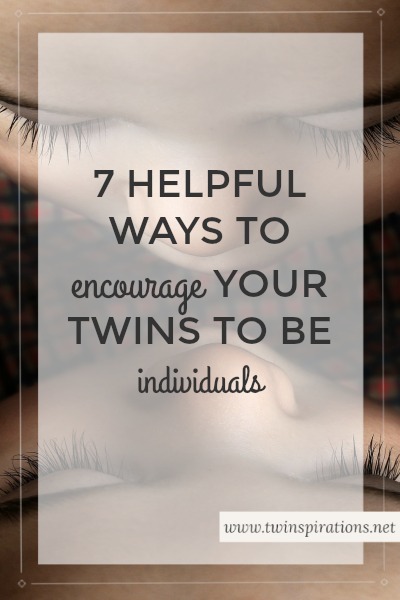 For some reason when I learned I was having identical twins, I freaked out that I was just having two of the same baby. Duh. Not true. But in my crazy mind this was a worry for a few moments!
I had visions of not being able to ever tell them apart and of them always tricking me which one was which (too much Parent Trap as a child??).
I feared that I would be disappointed that I just had two of the same thing. That would be no fun, I thought. If I was going to have two children, I wanted them to be different and unique.
Soon after, I read about the importance of twin individualism, especially if they are the same gender and share a lot of things (matching clothes, coordinating outfits and toys, etc.). Also, once they were born I realized I had nothing to worry about, since they exerted their own personalities early on and I never once got them mixed up. Now it just feels like I have two children that happen to be the exact same age.
Some of the ideas and advice of other twin parents have been helpful along the way though, so I thought I'd share!
Here are some things you can do to encourage your twins to be individuals:
Buy them different toys, or toys that are the same but different colours
We found that getting them the same toy or stuffed animal in a different colour was the best for our girls. This way they could tell which one was theirs and could have a special toy that they didn't have to share if they didn't want to. As they get older they can pick out their own toys, but when you have birthdays or Christmas gifts, then tell family and friends to get similar toys but different colours.
When they've gotten gifts of totally different toys it has always caused a lot of fighting, since they might both like one toy and not the other. For the most part though, the gift-givers have always gotten them the same thing, which has been nice!
Let them pick what they want to wear
Since the opportunity of having twins doesn't happen all the time, it's fun to take advantage of the situation and dress them matching while you can! I like dressing my girls the same, and since they are identical it can be fun confusing people which one is which. But I have also made little efforts to have some things that are different colours so that they can have some individualism every now and then.
Especially as they get older, they will want to have more of a say in what they wear. My girls often want to wear the same thing, but I have the options there for when they don't. Of course for things like family pictures, church or weddings, I pick out everyone's outfit. But for everyday play, they can wear what they want, and this gets funny when you have toddlers running around in all sorts of crazy combinations of clothing! (tutu's can totally go over pj's right?)
Let them pick out their own school supplies or craft items
Same goes for things like art supplies and creative projects. If they can pick out their own things, it helps them create their own unique masterpiece.
Let them be in different classes, sports and extra curricular activities
Most twins will want to be in the all the same things, but sometimes they need space as they get older especially. Be mindful if your twins need time away from each other to be their own person. Sometimes this isn't always possible when it comes to different schools or classes, but with some sports or activities it can be arranged.
Encourage them to have some friends that are not the same
Even though twins are thought of as built in best friends, they still need the freedom to have different friends and social circles. They will always have each other no matter what, but in certain phases of life might need more time apart than others, depending on their unique relationship.
Use their name when you talk about them, and not just "the twins"
This is the biggest piece of advice for when you're talking about your twins to other people or your spouse. When you use their names like you would with a singleton, it helps remind everyone that they are individuals, with a name. A person's name is a personal and special thing. It is the first thing that defines them as a person when they are born.
Encourage them to pursue the hobbies and passions that interest them
Everyone has dreams and passions. They are an important part of life, and should be encouraged to be pursued. If twins happen to have the same ones, that's fine too! I knew twin girls in their teens that both wanted to go into the same career and they enjoyed sharing the same passions and goals in life. This is one of the great benefits of being a twin! Just make sure that as a parent you communicate that it's ok if they do have different dreams and goals for their lives.
"Being a twin is not always easy
Why is everyone so blind?
I may look like my brother,
But I am one of a kind.

I want to be noticed
For the person that's me.
My brother is special too,
Why can't we both be?

We don't like the same things
We don't always agree
We are two individuals
Brother and Me."
What are some of the things you do to encourage your twins to be individuals?
---