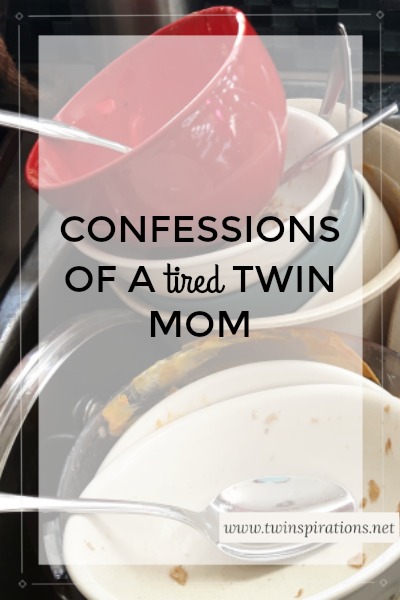 I need to confess that there are things I do now as a mom that I would have been horrified at before having children. I'm sure that a lot of these things are something any tired, busy mom of twin newborns would do (I'm hoping!), and not just me! And yes, some days I gross myself out, and other days I'm just too tired to care. Here are my confessions of a twin mom who's trying to stay sane. I'd love to hear if anyone can relate or has anything to add to the twin mom confessions!
Funny Confessions of a Tired Twin Mom
So far I've:
Washed the same load of laundry 5 times because I kept forgetting to switch it over.
Thrown out a dirty pan or two because it had been left out on the counter too long and I didn't feel like cleaning it.
Left pots and pans with food still in them out on the counter for weeks (2 weeks is my max so far).
Piled dirty diapers beside the full diaper pail that I was too tired to empty.
Never sanitized soothers or bottles..it just takes too long.
Used the same bottles for a couple of days cuz I didn't feel like washing all the gross sour ones in the sink.
Thrown some paper towel on a pee pee accident on the rug and forgotten to wash it later.
Put the girls in dirty pj's a few nights in a row because nothing else was clean.
Eaten food off the floor that the girls threw overboard at mealtime ( for half a chicken finger it's totally worth it!).
Left food on their highchair trays for days since the sink was too full of dirty dishes to wash them off (and I was too lazy to wipe them down).
Gone for days and days and days without showering or shaving my legs (shaving usually isn't even on the priority list at all..).
Gone to get-togethers serving food even though I didn't feel up to it, just because I was too tired to cook.
Licked clean the last spoon after using it and put it back in the drawer so my husband would have a "clean" spoon to use for breakfast ( it's not like we don't kiss all the time, right?).
Well that's all for now- looking forward to hearing from you other moms!
---