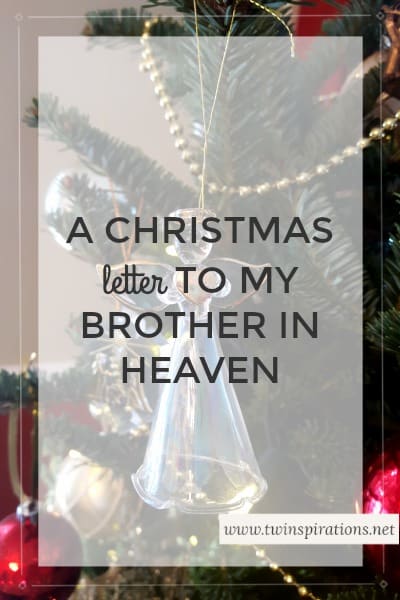 Hey bro,
It's almost Christmas. We are getting ready to celebrate at mom and dad's on Christmas Day like we always do as a family, but my heart isn't in it as much this year. It will be the first Christmas ever that I can remember having without you. I feel a strange mixture of dread and anticipation-because it's still the day we gather to celebrate the birth of our Lord Jesus Christ, so the Christian heart can't help but rejoice-but it will also be so, so hard not having you there. Your big grin and booming voice…your silly jokes and funny stories that always have us laughing until we cry. The life of the party. The hole you left in each of our lives is just so big..leaving us feeling so very empty.
I'm sad that my girls won't grow up knowing their fun-loving uncle..but we will definitely tell them lots of stories about you, though it's not quite the same. I keep feeling like this is all just a bad dream, and not my life but someone else's. I wasn't ready to say good-bye yet. There were still so many things we were going to do together…but God knows. I wonder what you are doing right now, and what it's like being with Jesus face to face. Do you celebrate Christmas in heaven?
We're all missing you a lot, and some days are easier to get through than others. We know you would want us to keep living and enjoying life, to keep fighting, to be strong. We're all trying. Some days I just need to be sad though, and I know you'd understand that too. You were a big softy under your tough-guy exterior. Not afraid to cry. I always appreciated that about you.
Life is so short, and you knew that. "Live each day to the full and have no regrets", you would say. "Always be ready". You were a lover and a fighter, and so many things I admired about you. Your passion and energy, your love for people and being friends with everyone. If you only could see all the friends and family who miss you everyday..I hope somehow you can. The impact of your short life was so far and wide.
I'm thankful for all the Christmases we did have together, and I'm thankful for all the videos and pictures I took every year as the designated photographer of family get-togethers. We all have so many memories that I'm sure will be shared for years to come, as we strive to keep you alive in our minds. When I close my eyes I can see you so clearly and can hear your voice. You will always be in our hearts and I will never stop missing you. I wish I could get a big squish from you this Christmas, but waiting until I see you in heaven to hug you will have to do.
I love you so much, and hope that now you are seeing the big picture of your life, and how much I loved you all along, and how proud I am of the man you became.
Until we meet again…
Your loving sis,
Tash
P.S Give grandpa a big hug from me, and one from each of the twins.
P.P.S Can you see us from heaven? Because if you can, I'm kinda creeped out, but kinda glad at the same time.