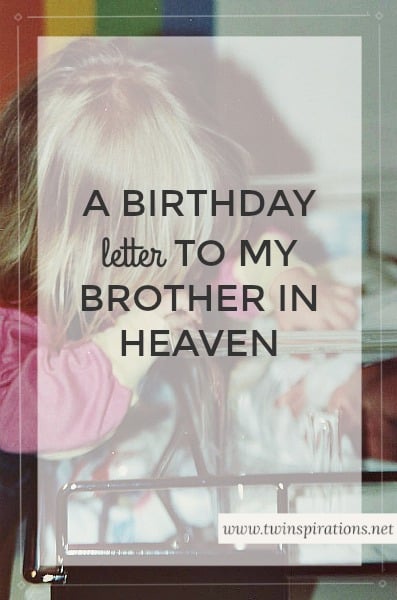 Hey bro,
I wonder as I write this how much time has passed where you are compared to here on earth. Some moments it feels like an eternity has come and gone since you left us, but then other times it seems like just yesterday that I was lying on the kitchen floor in a crumpled heap, screaming that it couldn't be true…
It's your birthday today, you would have been 27 years old, and it's weird that you aren't here to celebrate it. That special day in history that God knew before the creation of the world would be your day to be born. You gave mom and dad a scare that day, but you were always a fighter and that moment was no different. What an excited big sister I was! How thankful I am for the life that you lived, and for the difference you made in so many people around you.
I keep feeling like I should call or text you to wish you a happy birthday, so that's why I'm writing this, though I would give anything to just hear your voice on the phone again. I miss your laugh and your big grin..your bear hugs and squishes…your jokes and your humour. Such a big hole you left behind in our lives.
The girls were asking about you today, and whether they would see you when they go to mom and dad's (since that's where aunty is now, so you should be too). Though it breaks my heart all over again to say it, I told them you're with Jesus. What does a two-year-old understand of where Jesus is?It's a hard concept to grasp even as an adult..but perhaps children find it easier to simply accept spiritual truths without having to understand them. Oh to be a child..
We miss you so much, and it feels like you should come back now, now that we've passed what seems an arduous test of how long we can go without you. It's like every day we shouldn't go on with you missing, but then we do.. and on and on it goes.
Part of me wants to just watch videos and look at pictures of you to feel like you're still here, but then I can't, because you're not. It hurts too much to acknowledge reality, like if I don't talk about it, maybe it won't be true.
Though it sometimes feels like it shouldn't, daily life still goes on without you anyway…work is done and food is eaten..the sun rises and sets. We are all trying to live life to the fullest, to make the most of each day we are given, and to not treat life like something we will always have. Though we don't understand it, we still have things to do here, and you didn't. You completed your mission, and we still have ours.
I know if you could you would tell us all to stay strong, to keep fighting the good fight, and to keep running towards the goal.
I'm so thankful that someday when we are together again, our lives here on earth will seem like such a short blink of an eye compared to eternity together. It's the waiting that sucks. It's the missing you.
So today I remember the guy who made me a big sister for the first time, and I'm so proud of the man you became.
Happy Birthday, and try not to have too much fun until we get there okay?
Love,
Your sister forever.
---
Related Posts:
A Christmas Letter to My Brother in Heaven