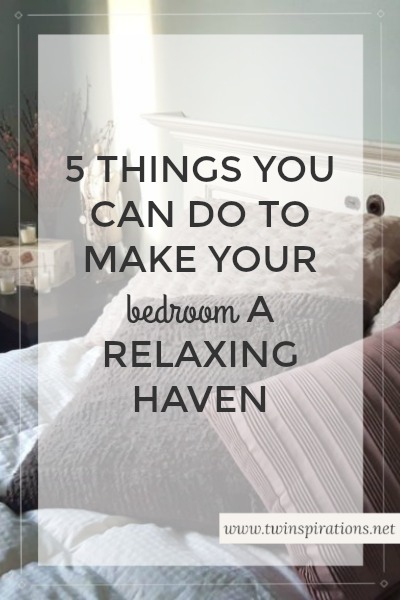 One of the things I was determined to do when I got married was to keep our bedroom as a relaxing, inviting, and romantic room. Even if the rest of the house was a disaster, we could at least retreat to our bedroom and recharge, in the peaceful atmosphere. Bringing home twins obviously changed the romantic and classy feel a bit as babies took over with cradle, diapers, bottles and swaddle blankets. However, our plan was to have them in our room (and our bed) only for a short time, since having twinsies taking over the house can be a bit overwhelming and we needed to have one room we could go to that was "our room" and not filled with baby stuff  x2.
Now that the girls are older and carrying toys and everything around with them from room to room, this has been especially good for us! They are not allowed in our room unless we let them in so I usually keep the door closed unless I am in there and then they can come in with me and hang out while I do whatever I'm doing. Making our room off limits has made for some cute incidents. A few times I forgot to close the door and then couldn't find them anywhere and discovered them in our room getting into stuff. Such cute, guilty little faces! I've taken lots of pictures of these moments..just couldn't resist! Usually they involved mom's underwear or lingerie scattered everywhere and them wearing a few items on their heads, which always gave me a good laugh. All in all it was a good decision for us that helped save our sanity (always important!) and helped us keep the romantic side of our relationship in a healthy state (also important!).
Keep the laundry out
Don't bring baskets of clean laundry into your room to get them out of the way or to "fold later". It might be a convenient place to fold clothes since you have to put them away in your room anyway, but all too often us moms get busy with something else and at the end of the day the basket gets set on the floor and soon you have a stack of baskets that you have to dig through to find clean clothes the next day. Try folding laundry in another room if this is a tendency for you. Also, have a nice clothes hamper for your room and every day just quickly pick up the few dirty items to throw in the hamper until wash day. This will keep the floors and bed cleared regularly and make tidy- up so much faster. See my post on the benefit of having a laundry day.
Make your bed every day
I can still hear my mom's voice, "If you make your bed every morning before you leave the room you will be so much happier!" Us kids always groaned that she made us make our beds every day, but now I finally get it! One of the things I like the most about staying at a hotel is that your bed is always made when you come back to your room for night and it makes going to bed so much more enjoyable when you can climb into a fresh, clean, nicely made bed. So mom was right of course. And if your laundry isn't piling up on the bed it's so much faster to make it! Your bed should be a place that's inviting and cosy, so make it the main focus of the room.
Buy or make a new decorative pillow for the bed
Sometimes all a bedroom needs for a little sprucing up is a new decorative pillow or two that makes you smile. Change the colors up or do something seasonal if that makes you happy. If you enjoy sewing and want a fun little project to do, then a decorative pillow is an easy project you can do in a day. Either way, it's a quick and inexpensive way to add to your bedroom decor.
Only display things that bring you joy
If your room is a place to recharge and relax, then don't have anything in it that doesn't make you smile. Go through all the things you have in your room such as decor, pictures, furniture and bedding and get rid of everything that you don't love. Better to have a few things you love to look at than a bunch of stuff that makes you stressed or feel cluttered. I enjoy displaying a few candles, romantic pictures of my husband and myself, a few decor items on the bedside tables, and some cute storage boxes and baskets for scarves, belts and lingerie.
Keep it clean
The less stuff you have in your room or on your flat spaces, the easier it will be to clean, and more time for mom is always a good thing! A clean room will help you feel better and make the space more enjoyable. I also try to wash the bed sheets at least once a week and that helps a lot. Make it a priority to have your room clean and then when the rest of the house is a disaster at least you can retreat there to your sanctuary and find some peace of mind. I have given up hope that my house will ever be perfectly tidy until my children all leave home, but it really doesn't bother me too much now if I have my room to escape to!